Last Monday, May 18th, was the feast of St Eric, King of Sweden, who was killed at Uppsala on that day in 1160. There is an account of his life and cult
here
, a site which, amongst other things, explains the questions around the numbering of the Swedish Kings Eric.
I was alerted to this feast day by a post by Matt Heintzelman on the Medieval Religion discussion group.
This was followed by another post on the site from John Dillon, as follows:
St. Erik's skull and his twelfth-century burial crown (ordinarily both reside in his later sixteenth-century reliquary in the cathedral of Uppsala):
Image: dd.ibyimes.co.uk
Some medieval images of Erik of Sweden:
a) Eric in a fourteenth(?)-century sculpture in the late medieval parish church of Gamla Uppsala:
b) Eric in two fifteenth(?)-century mural paintings in Uppsala's cathedral:
c) Eric in a sculpture in Stockholms Medeltidsmuseum (Museum of Medieval Stockholm):
d) Eric (at right in the first view) in a vault painting of ca. 1450 in Överselö kyrka in Strängnäs township (Södermanlands län):
e) Eric in a fifteenth-century mural painting in Brunnby kyrka in Höganäs (Skåne län):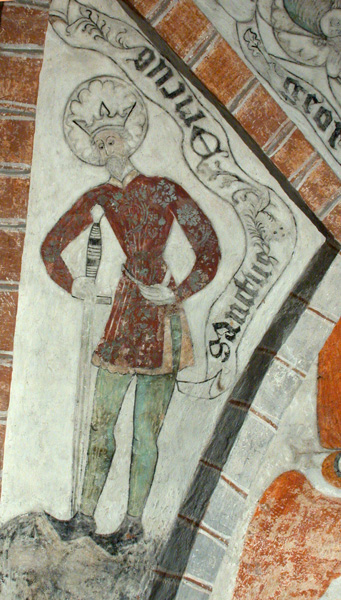 f) Eric in a statue of circa 1500 in Hälsinglands Museum, Hudiksvall (Gävleborgs län):
I suspect that St Eric is less well known in the English speaking world than St Olaf of Norwat or St Cnut of Denmark, or St Magnus of Orkney amongst the various Scandinavian martyred monarchs and rulers, but he was clearly seen in the middle ages as a pattern for Swedish Kings and, as the pictures show, an inspiration for Swedish artists and those who commissioned their work. His story and cult also has some resemblances to that of St Wenceslas in Bohemia.