Today is the Feast of St Peter and St Paul.
SS Peter and Paul, with SS John the Evangelist and Zeno.
The left panel of the polyptych of San Zeno painted in 1457-60 by Andrea Mantegna (c.1431-1506)
Image: New Liturgical Movement
Tradition assets that both were martyred on this day, and both by their death in Rome sanctified the Church there, a charism that was to help create the Papacy.
A nearly contemporaneous work by Carlo Crivelli (1430/5-c.1494) painted for a church in Fermo and that is now in the National Gallery in London, is illustrated and analysed in a post from 2020 from the Dominican Chaplaincy of St Albert at Edinburgh University and it can be seen at
Although both are celebrated today I think it fair to say that St Peter tends to be the more prominent in the perception of the faithful. This doubtless a consequence of the Vicariate of Christ exercised by the Pope, and the more immediate association of St Peter with Rome. This is all summarised by the vesting of the great bronze statue of St Peter in the Vatican basilica on this day.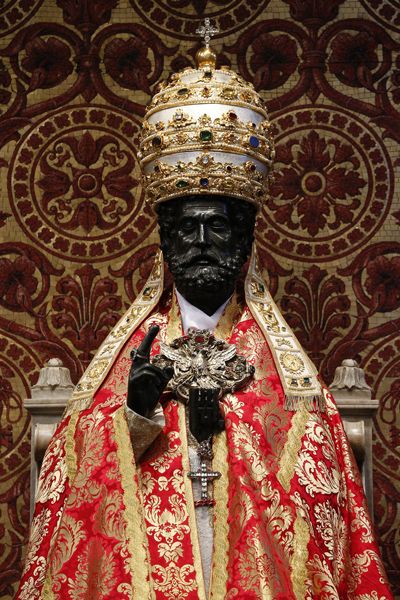 St. Peter statue in the Vatican Basilica
in solemn Papal
vestments
Image: Tradition in Action
Now all we need is a living Pope vested like that.