The discovery of a Roman building complex at Eastfield, which is part of the southern suburbs of Scarborough, has attracted considerable interest.
The presence of Roman troops at the signal stations along the northern Yorkshire coastline in the later period of the Empire has long been known. The remains of the best preserved of these can indeed be seen at the eastern edge of the promentary on which Scarborough Castle is situated. Some miles to the south at Rudston there was a villa with mosaic floors which are now on display at the museum in Hull.
However what has attracted attention in the latest discovery is that it is not clear what type of building it was. No comparable structure in known here in Britain. One possibility is that it was a villa with a temple or equivalent feature at its centre. Another suggestion is that it might have been a shrine with accommodation for administrators and for pilgrims. It appears that the buildings replaced an earlier villa or possibly that it had two predecessors.
The site was discovered during preparations for building work but will be preserved as the plans are being altered to accommodate the discovery. For the immediate future it will be reburied to preserve the foundations. Unfortunately it has already attracted the unwelcome attention of unprincipled metal detectorists, but that situation is now being monitored more closely.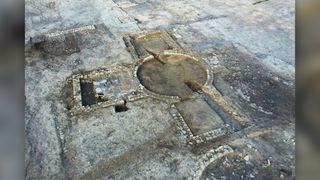 a bathhouse.
Image: MAP Archaeological Practice and LiveScience Essentials