As we are still only in the early part of Pascaltide it seems appropriate to share this image of the Resurrection from the Peterborough Psalter.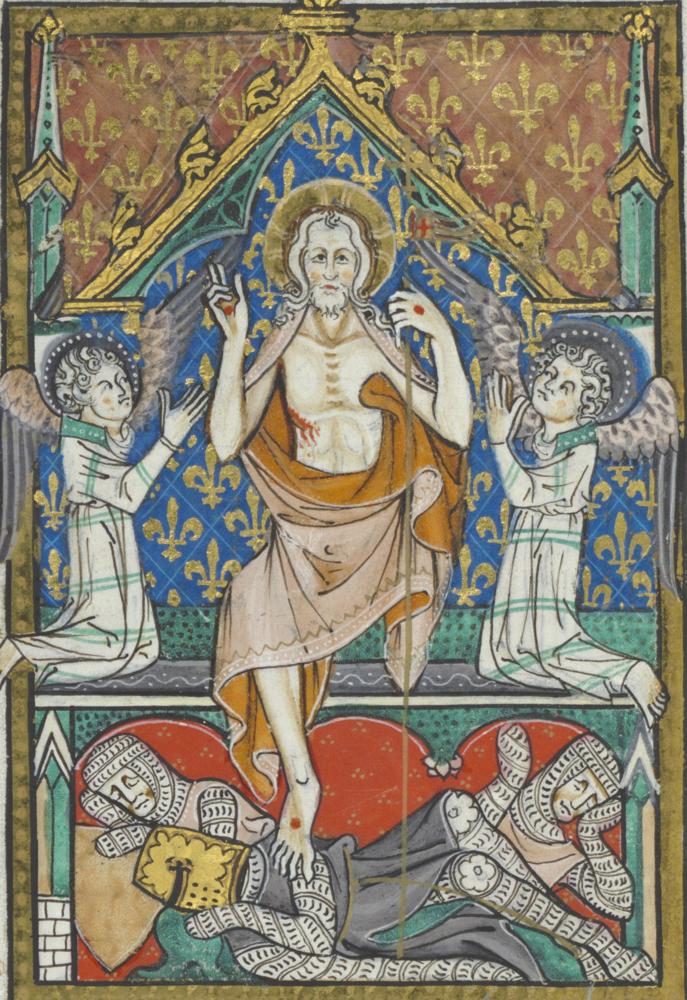 Peterborough Psalter 1300-1325
Royal Library of Belgium
Image: manuscript miniatures.com
The early fourteenth century Peterborough Psalter, which is now in Brussels, is the central work of the "Fenland" group of manuscripts. It was made between 1300 and 1318 for Godfrey or Geoffrey of Croyland, who was Abbot of Peterborough from 1299 until 1321. As Abbot he seems to have been something of a patron of the arts as it was in that time that a chapel of St Thomas of Canterbury was built between the main church and the now destroyed Lady Chapel which extended eastwards from the north transept.
Peterborough Abbey, now the Cathedral, in the seventeenth century. In this view from the north the Lady Chapel with its flèche is shown on the left of the north transept. Abbot Croyland's chapel would have been behind it.
Image: Wikimedia
The atelier of artists who collaborated to produce this and other manuscripts, such as the Ramsey Psalter, the Gough and BarcowPsalters and the Canonici and Croyland Apocalypses, was probably headed by "Master A", who illuminated the initial folios of the Peterborough Psalter. The group had at least five illuminators. "Master B" who executed most of the work on the volume also worked on the Ramsey Psalter. The group received commissions from patrons throughout East Anglia and is thought to have been based in either London or Norwich.
The Peterborough Psalter was given to Cardinal Gaucelin d'Euse or Duese (d.1348), a nephew or relative of Pope John
XXII (1316-34) whilst on a diplomatic mission as a Legate to negotiate between England and Scotland in 1317-19. It was whilst on this legation with Cardinal Luca Fieschi that the two Cardinals were robbed in what became a major diplomatic incident when they travelled north to consecrate the new Bishop of Durham Louis de Beaumont. There is a life of the Cardinal, who appears to be typical in terms of his distinguished career and the preferments he acquired for a major Curial figure in the period of the Avignon Papacy, at
Gauscelin de Jean
.
The Psalter passed to Pope John XXII, who then gave the volume to King Philip VI of France, from whom it descended to the bibliophile King Charles V, and ultimately to Duke Philip the Good of Burgundy. It was during his ownership that his Ducal arms were added to the bottom of the leaves.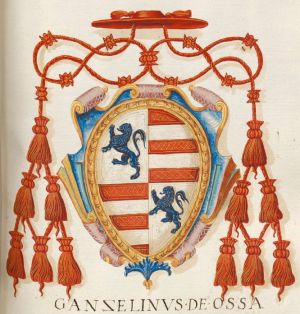 The coat of arms of Cardinal Gauscelin de Jean
Image: heraldrywiki
With acknowledgements to facsimilefinder.com and cardinals.fiu.edu. Both have a few minor typographical errors.