Yesterday I received my copy of
The Monuments Man: Essays in Honour of Jerome Bertram
which has been published as a
Festschrift
to Fr Jerome who died last October. It is edited by Christian Steer and published by Shaun Tyas. I think it was meant to be an offering to mark his seventieth birthday, which would have been last month, but that was not to be, so it is a memorial as well as a celebration of his very significant contribution as an antiquary.
The book is beautifully produced and covers a wide range of aspects of church monuments, their design and appearance as well as their creation and destruction.
I think about the first thing I knew about Fr Jerome was his prominence in the world of brass rubbing. Having got to know him through such historic interests - in my youth I did do brass rubbing, but my home area is alas not that rich in such survivals - that seemed a good shared interest to encourage me to approach him when I sought to be received into the Church. It would not be inaccurate to say that brass rubbing as a topic entered into several of our pre-reception meetings.
Not long after my reception I joined Fr Jerome and another member of the congregation on a day out exploring some of the churches between Oxford and Banbury, and viewing the spectacular brass in the church at Great Tew one almost expected Fr Jerome to be able to not merely name the London engraver of the 1390s but to say whether or not it had been raining on that particular Tuesday afternoon...
He invited me along to a meeting of the Monumental Brass Society that was held in Oxford as both a commemoration of the late Malcolm Norris - a man who reshaped awareness in this country of European brasses - and also a celebration of Fr Jerome's enormous contribution to the study of the topic.
His holidays were brass and slab rubbing journeys along the Baltic coast and its hinterland in the footsteps of medieval prelates and Teutonic knights with the resulting rubbings displayed in the Oratory library and written up in illustrated booklets - his discovery of the print-to-order firm Lulu greatly expanded his literary output in recent years.
What was really his last break away before his illness appeared was in 2016 leading the Brothers of the external Oratory on a retreat and holiday based at Belmont Abbey near Hereford provided two wonderful days out plus a fascinating journey back filled with visits to historic churches, impressive tombs and much besides. Not only was he deeply knowledgable as an antiquary but being a priest meant he never lost sight of the reasons behind the monuments and decorations of a medieval church. His was a total view of the mindset that created such wonderful things - body and spirit as a unity of intent.
On a few occasions I was privileged to read drafts of his work and on other occasions as well to be able to suggest examples to assist in his researches.
Last summer and not long before his final decline he was enabled by a friend to rub the brass of Bishop John Waltham of Salisbury who died in 1395 and who, at the insistence of King Richard II, was buried in St Edward's shrine chapel at Westminster Abbey. The remains of the brass were rubbed and publish in the nineteenth century but today are usually covered to protect them and to ensure a level floor. He invited me up to the Oratory Library to see the very fine rubbing he had made, though he said a little ruefully it was not as good a one as he could have made a year or two earlier. He thought his was the first such rubbing in a century or more. We discussed the notes he was writing on the brass, and I see they are to be published by the Monumental Brass Society. As something of a Grail quest for brass rubbers Bishop Waltham was a fine and fitting achievement for his last rubbing.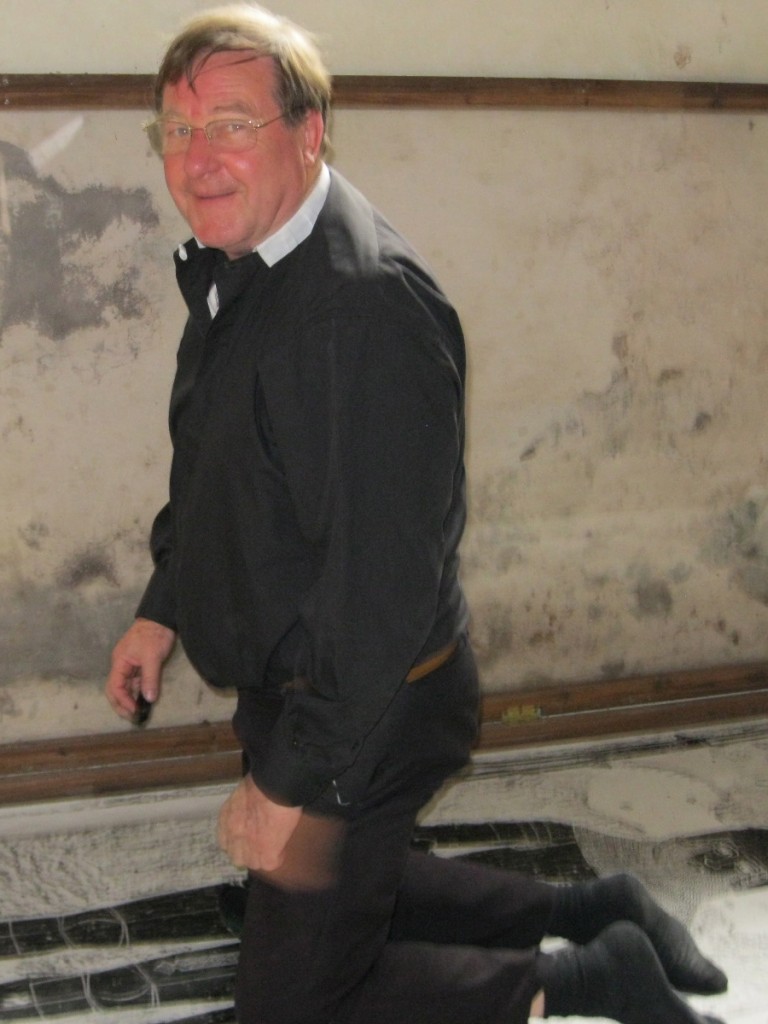 Fr Jerome Bertram "in his element" : he is shown rubbing the monumental brass
commemorating Sir Robert Bardolf, 1395, at Mapledurham, Oxfordshire in June 2013.
Image: © Martin Stuchfield / Monumental Brass Society
The one regret I have with regard to the book is that I shall not be able to discuss the contents of The Monuments Man with Fr Jerome face to face.
May he rest in peace.