Last year, before I became aware of the Stevenson Marian Pilgrimage, I was researching for an article which appeared in the Catholic Herald last summer about Medieval English shrines of Our Lady which have been re-established. A friend mentioned to me the hopes of restoring a pilgrimage to Our Lady at the Oak in Islington and gave me the link to it from Independent Catholic News at London: Campaign to restore Islington's lost Marian Shrine
There is a later article about that project at My Journey to Our Lady of the Oak, Islington - Faith Movement with something about the proposal for a garden in front of the church and which also gives two prayers.

Our Lady of the Oak is one of those smaller shrines that has left little in the historical record. It appears to have been in existence by 1130. It was located just west of the parish church, and I rather imagine it must initially at
least have been in an oak tree.
The church itself has been rebuilt. The old building was certainly of fifteenth century date and included at least one earlier fragment of masonry. However it was dilapidated by 1750 and, under an Act of Parliament was rebuilt and the new church opened in 1754.

This rather attractive church was bombed in 1940, when the tower and spire survived largely unscathed. In the 1950s it was rebuilt much as before. It is a noted Evangelicsl parish and two curates have gone on to become Archbishops of Canterbury - Donald Coggan and George Carey. There is an account of the church at St Mary's Church, Islington
For the old church there are a few pictures which show a rather typical Home Counties style.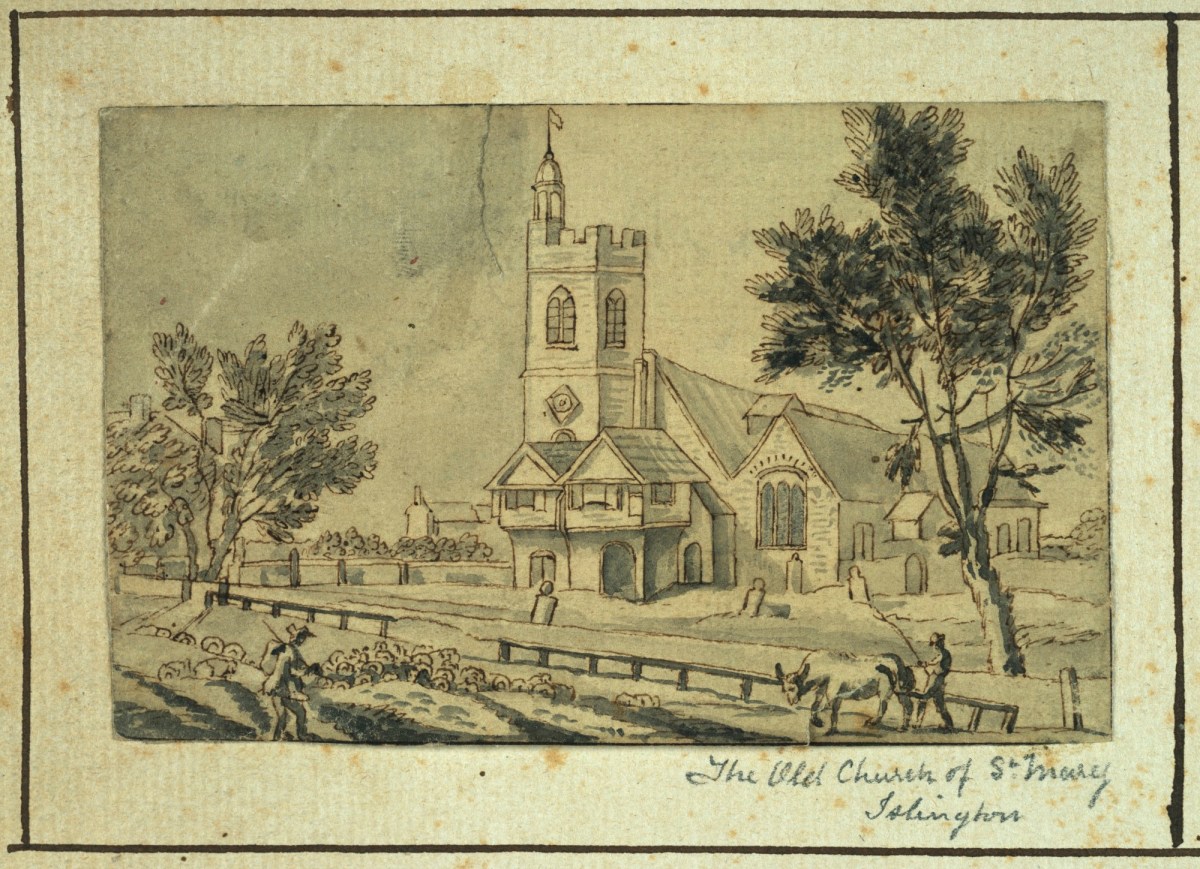 Old St Mary's Islington
Jean Baptiste Claude Chatelain (c.1710-1758)

IImage: royal academy.org.uk
Other evidence may lie in later medieval testamentary bequests, but I do not know if they have been published for the diocese of London for the period. There is a reference to
"Or Ladye of the Oke" as a boundary indicator in a proclamation from the earlier part of the reign of King Henry VIII which was intended to protect game for the royal household.
In 1538 the statue was one of those singled out to be burned at Chelsea at Cromwell's house. This was together with those from Walsingham, Worcester, Ipswich and Doncaster and the one from Pen Rhys from Wales.
Not far away the Anglican Church of St Silas in Pentonville does celebrate Our Lady of Islington in its 1994 mosaic reredos. The following text and pictures are from their parish website:
There was an ancient Shrine to Our Lady on Upper Street, Islington, at St Mary's Church. The image of Our Lady (which may have been placed in an oak tree) was destroyed at the time of the Reformation. The Shrine of Our Lady of Islington was very popular, especially with pilgrims heading north from the City of London.
Our Lady of the Oak of Islington Pray for us