Yesterday was the feast of St Blaise, the patron of sore throats and of the woollen industry. By coincidence, today the Guardian has a report illustrated with a relic of St Blaise. This is part of the Guelf Treasure, the Welfenschatz, and the subject of a continuing series of legal actions over its twentieth century sale.
Originally this spectacular collection of medieval relics and reliquaries belonged to the collegiate church of St Blaise in Brunswick/ Braunschweig, which is now the cathedral. There is an illustrated account of its history at
Brunswick Cathedral
The cathedral of St Blaise Brunswick
Image:Wikidata
who had converted to Catholicism twenty years earlier. After his death it remained with the Dukes of Brunswick Luneburg and the Electors and Kings of Hanover - and of Great Britain and the UK until 1837. The treasure was held in the Court Chapel in Hanover until 1803. At that point it was temporarily removed to Great Britain for safety.
In 1929, just before the financial crash, Duke Ernest Augustus of Brunswick sold the collection. Part of it is now scattered across museums in the USA, but 42 objects out of the original 82 were bought by the Prussian state government in 1935. Since 1963 these items have been on display in the Berlin Museum of Decorative Arts. Other pieces from the collection are in the Duke Ulrich Anton Museum in Brunswick/ Braunsweig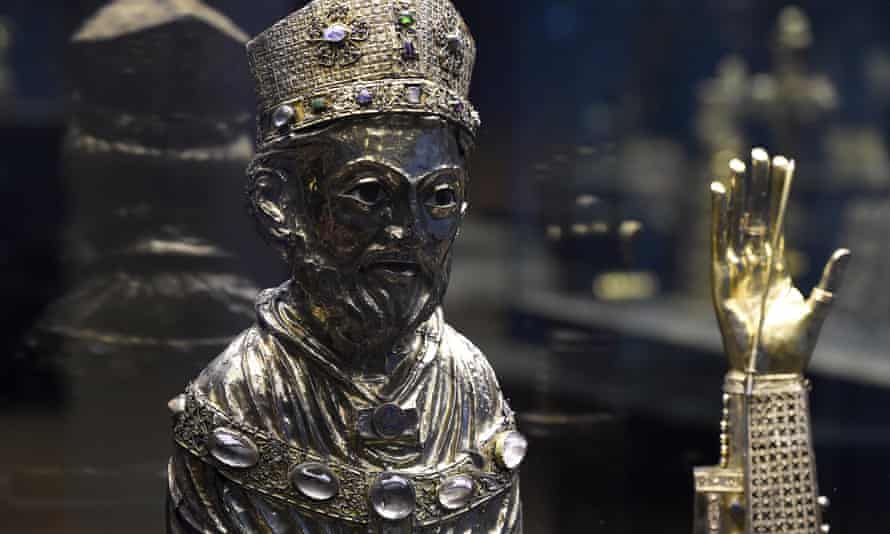 Image: Tobias Schwarz/AFP/Getty images/
Guardian