Fragments of a twelfth or thirteenth century glass drinking vessel made in the Near East were found during excavations at Carlaverock Castle in Dumfriesshire in the 1990s.
It is interesting that these pieces of glass were discovered just the other side of the Solway from Cumberland with its traditional Lucks, vessels which bring good fortune to their owners, and two of which are also of glass. The story of these Lucks is set out in a
BBC
article at
BBC - Cumbria - History - Cumberland Lucks
The Luck of Edenhall
Image:Wikipedia
The Luck of Muncaster may be of Venetian manufacture and is a bowl, traditionally said to have been given to Sir John Pennington of Mucaster Castle by King Henry VI in 1464. This was in recognition of the nine days hospitality given by Sir John to the dethroned King in his flight after the battle of Hexham. It is still in the possession of the descendants of the Penningtons at Muncaster Castle. There are online articles about it at
The Luck of Muncaster Castle and of Eden Hall
,
at
Muncaster Luck
,
both of which also look at the Luck of Edenhall, and at
Luck of the Muncasters to go on show
The Luck of Muncaster
Image: BBC
That such exotic glassware was appreciated is clear from the story of the Lucks, but it is evident that such vessels were not unknown elsewhere in the seemingly remote borderlands around the Solway Firth. Was the Caerlaverock glass a similar piece whose luck finally ran out?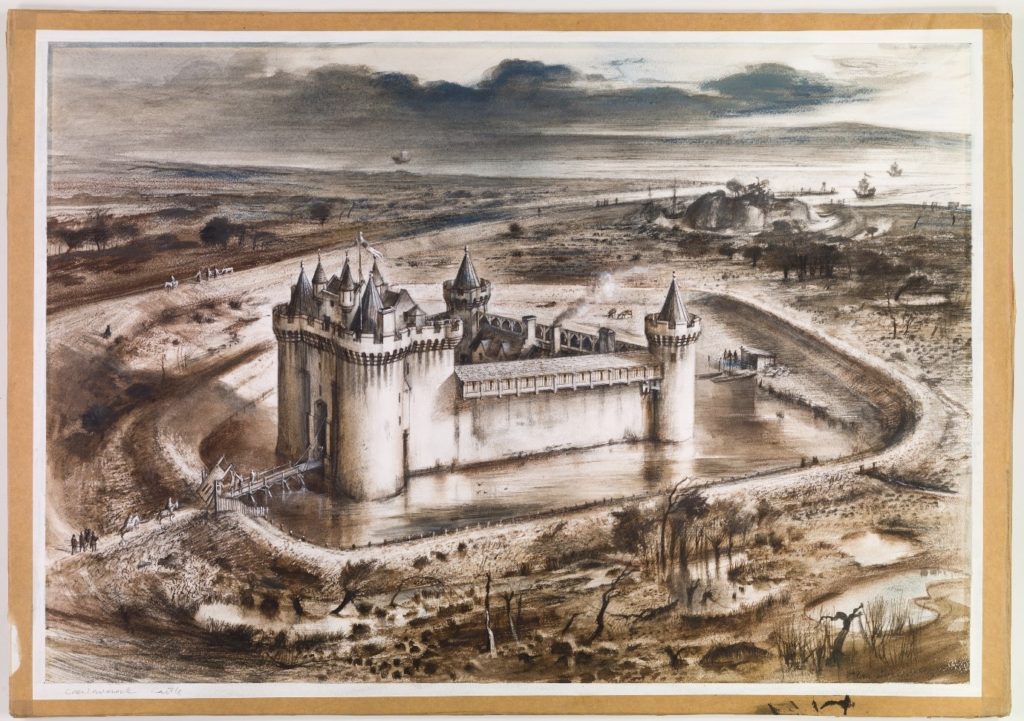 Caerlaverock Castle as it might have appeared in the fifteenth century by Alan Sorrell.
Image: Castle Studies Trust / Crown Copyright HES